The British Campaign for Soviet Jewry 1966-1991: Human Rights and Exit Permits by John Cooper
The British Campaign for Soviet Jewry 1966-1991: Human Rights and Exit Permits by John Cooper
Price: £19.99
ISBN: 978-1-914933-46-2
The British Campaign for Soviet Jewry 1966-1991: Human Rights and Exit Permits is the first full length study of the movement based on primary sources. The book tells the story of one of the three or four most significant events of twentieth century Jewish history. Almost 1.5 million Jews left the Soviet Union mainly for Israel and the United States.
According to Natan Sharansky, the international human rights campaign was the most successful such movement in history. It was one of the principal props of the Soviet dissidents campaigning, and an important factor that led to the humbling of the regime and the eventual disintegration of the Soviet Empire. It was also a rare example of the reversal of an attempt at Cultural Genocide, that the Soviet Union had intended to inflict on its Jewish citizens.
The book attempts to weave the exciting story of the British movement in its international context in a fluent and readable manner. It focusses on its various components – the women and students and the National Council for Soviet Jewry; and differentiating it from its American counterparts, and the Israeli government, which attempted to guide its over-all strategy. While it covers the changing attitude of the British government to human rights from Harold Wilson to Margaret Thatcher, it also details the trials and tribulations of a countless number of Jewish and other dissidents and their supporters overseas. They bravely defied not only Stalin and his successors but the secret police and enabled the mass migration of Soviet Jewry to happen.
Fractured Society: Causes, Effects and Resolutions by Hugh Roberts
Fractured Society: Causes, Effects and Resolutions by Hugh Roberts
Price: £9.95
Scanning across recent decades, Fractured Society: Causes, Effects and Resolutions looks at how human relations have been coming apart psychologically, a situation summarised by a failure to understand each other.
Young people seem more stressed than previous generations, while politics are now more polarised than for a long time past. Wherever you look, at gender relations, the working environment, responses to traumatic events and how people relate – positively and negatively – to their sense of place, there are profound strains on how we interact with each other. But maybe all is not lost! Hugh Roberts examines how every situation can look better in context, applying lessons learned from many years working internationally with different cultures and value systems. He proposes a fresh approach to relationship building, based on empathy and understanding of individual agendas.
CV19 has brought communities a renewed sense of collective purpose with digital communication proving vital in sustaining relationships. However, the Internet needs to take its rightful place in, rather than take over, the slow re-building of mutual trust.
Fractured Society: Causes, Effects and Resolutions delivers an upbeat message advocating a better-connected world created through encouraging us to adopt a positive, empathetic approach to one another, replacing an approach shrouded in fear and mistrust of forming new acquaintances.
After graduating from the Universities of Oxford and Wales, author Hugh Roberts spent over forty-five years in planning, design and development consultancy for new towns and urban, industrial and regional infrastructure. He worked for some of the largest built environment consultancies in UK, the US and Australia and lived and worked in a wide range of countries throughout all six continents.
Following a series of professional journal publications, for example, in the Middle East Economic Digest, he wrote An Urban Profile of the Middle East published in 1979 (Croom Helm). They were taken over by Routledge/ Taylor & Francis who published it again in 2016. In 2017, he wrote Journeys with Open Eyes: Seeking Empathy with Strangers (i2i Publishing), a travelogue and biography of the projects and people with whom he interacted with across multiple working and domestic cultures worldwide. The book is partly serious commentary on trends in urban development, but also anecdotal about bizarre situations – some mundane, others hilarious and a few even life-threatening – encountered through a long and varied career. Fractured Society: Causes, Effects and Resolutions is Hugh Roberts' third.
Capability Britain – For a Country that Works by Will Podmore
Capability Britain – For a Country that Works by Will Podmore
Price: £12.98
ISBN: 9781838386887
This book addresses profound issues of democracy and of Britain's national independence and unity.
It looks at the long rise of democracy in Britain, the American struggles for independence and against secession and slavery, then at the 20th century's revolutions and counter-revolutions.
It urges us to revitalise our industries and develop our energy supplies, to invigorate our public services, to support our industries, farms and fishermen.
Other chapters examine the treasured contributions of Scotland and Wales to our union and stress the importance of the Scottish people's emphatic vote, in the 2014 referendum, to stay in Britain.
It also examines the 2016 EU referendum and shows that Leave voters voted for the principle that decisions about Britain should be taken here.
The final chapters look ahead to what we can achieve now that we have left the EU: we can make our own decisions and plan for an independent future. We the people have to rebuild Britain; we the people have to assert control.
Brexit – The Road to Freedom by Will Podmore
Brexit – The Road to Freedom by Will Podmore
Price: Paperback £9.95
ISBN: 978-1-9164271-7-4
This powerfully-written book addresses profound issues of democracy and political economy. It is a readable, concise, yet comprehensive guide to the EU referendum campaign and its place in Britain's democratic advance. It points out the political and economic weaknesses of the arguments for a United States of Europe. It concludes that we were right to vote to leave the EU and to assert the politics of democratic national independence. It outlines the key elements of a political and economic future for an independent Britain which would create greater prosperity than the eurozone. Taking control must mean more than just our vote to leave. It must also mean working to rebuild Britain, planning for freedom and making a clean break from the EU. This book is written in the belief that only as an independent united Britain can we address and solve Britain's problems. The urgency of these problems demands clear thinking: This book may help to stimulate that necessary thought and debate, to help us to implement what we have decided to do.
Gwlad! Gwlad? Invitation to Join a Party by Aled Job
Gwlad! Gwlad? Invitation to Join a Party by Aled Job
Non-Fiction
Price: Paperback £9.95
ISBN: 978-1916500129
Brexit – the decision taken to leave the European Union at the Referendum in July 2016 – has transformed the political landscape of the UK. All the old certainties have been upended and confusion and uncertainty are the orders of the day all round. The established parties have been completely poleaxed by Brexit, flailing around for answers and failing miserably on all fronts. In the midst of all this chaos, people all over the UK seem to be looking for new answers, politically, economically and socially.
In Wales, the same sense of confusion and uncertainty reigns. Wales had received millions in European money over the past 20 years. But, like its neighbour England, the nation had decided to vote to leave the EU in 2016. What could be done? Was there any way in which Wales could respond to such a seismic political event? The generation traditionally associated with protest and activism – young people- seemed too lost in a world of technology, social media and consumerism to take any interest at all. Was it therefore, up to middle-aged people to take up their mantle of activism? Could such a group (and mainly men) do anything about the crisis facing Wales?
Gwlad! Gwlad? An Invitation to a Party tells the story of the effort over the course of one year: to set up a new party to put the case for Welsh Independence at the centre of the political agenda post-Brexit. The group outlines their aim to become the first Syncretic Party in Wales and the UK – willing to consider ideas from across the political spectrum as long as these are beneficial for Wales as a country.
The whole story is told from the perspective of an insider, someone who has been involved with the enterprise from the initial meeting in the Autumn of 2017 right through to the launch at the end of August 2018. He tells of the highs and the lows of this year, of the self-described `middle- aged wrinklies' and their attempt to start up a new political party from scratch `Ein Gwlad' (Our country). The idealism, the camaraderie, the spirited co-operation as well as the disappointments, the arguments, the setbacks and the fallouts.
It's a warts-and-all tale of one group of people's attempt to try and change the destiny of a nation. Aled Gwyn Job combines the fascinating tale of setting up Ein Gwlad over the year with commentary on political developments in a hugely eventful year for Wales and the UK along with snippets from his own personal life over the course of that same period.
Aled Gwyn Job ydi f'enw i. Cymro ac Independista!
My name is Aled Gwyn Job. I'm Welsh and an Independista- someone who believes in Independence for the historic nation of Wales. England's first colony, and hopefully its last.
I'm a Translator, a Simultaneous Translator, Blogger, Political Activist and Theology Student!
Quite a mix there, but I'm a big believer in the idea of having a life-long learning mindset, a portfolio career, and the opportunity to be able to utilise one's different talents in different directions in life.
I love writing both in Welsh and English. It's probably where I feel most alive and creative in life!
"Gwlad!Gwlad? An Invitation To A Party" fulfills a lifetime's ambition, to see my work in print.
It's my take on a hugely eventful year in Welsh political life along with snippets from my personal life as well during this period.
I hope you will buy it and enjoy it, just as much I enjoyed writing it!
Brexit: How the Nobodies Beat the Somebodies by Sebastian J. Handley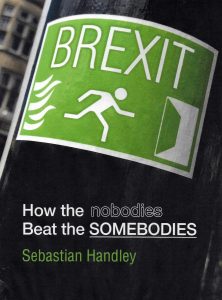 Brexit: How the Nobodies Beat the Somebodies by Sebastian J. Handley
Non-Fiction
Price: Paperback £9.98. Kindle £3.99
ISBN: 978-1-9997156-9-4
Brexit was Britain's first full-scale information war. The seminal political event of the age, there were no petrol bombs, no occupations and no riots – it was a very British revolution. In years to come historians and politicians will struggle to explain how a disparate collection of disorganised, demoralised nobodies managed to triumph over the entire political establishment and change the course of European history. From the absurdity of the Thames flotilla debacle to the tragedy of Jo Cox, this is the story of what really happened.
Author Sebastian Handley is a Brighton-based 'singer,' songwriter and performance poet, who, on his daily commute to his work in a London architectural practice, wrote a series of impassioned blogs for independence from the EU which he circulated tirelessly on social media. 'How the Nobodies Beat the Somebodies' is the story of his journey from zero to hero … to villain … then back to zero again.